My Healthy Cholent Alternative
I decided after last Shabbat that I didn't want to make cholent again. We had just eaten it for the first time in several months at the behest of my daughter (I don't make it when the weather is hot) and I was reminded once again of the reasons why I don't always enjoy this gastronomic specialty – it is not especially kind to one's digestive tract. That big stew of beans, vegetables, and possibly meat (we usually make ours pareve) can be gas provoking and the heavy offering sits in my stomach for way too long.
However, I didn't want to do away with "cholent" completely. There's something very nice and comforting about that hot bowl of cholent on a Shabbat afternoon and a type of solidarity with other Jewish families who are also sitting down to a similar meal. For many it's an observance of ritual, tradition. Or just having a great meal every Shabbat.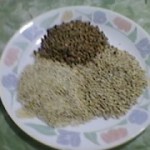 So, for this Shabbat I put together a cholent made of similar ingredients that would have a cholent-like taste and texture that I could leave on the stove overnight, but without the beans. I was so pleased that it came out just as I had hoped. The lentils gave it the bean-like taste and the barley gave it the "gelatinous" texture. I now have a new and, cholent purists please forgive me, better Shabbat offering.
Here's my recipe for you to enjoy. I made a large stockpot full but you can cut back or increase the amounts depending on the number of people you are feeding and how much you want left for during the week.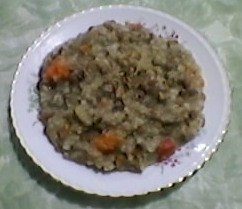 Quinoa Cholent
1 cup each (equal amounts) of organic quinoa, barley, and lentils (mine were brown)
1 large onion chopped
Several carrots cut into 1 inch pieces
Sea salt to taste
Stew meat or flanken – We enjoyed it immensely without meat but were in agreement that this would be just as good (if not better) with some meat in it so feel free to add meat if you like.
1. Soak the quinoa, barley, and lentils in filtered water with lemon juice for several hours or overnight to remove the anti-nutrient phytates and enzyme inhibitors.
2. Using a large strainer, drain the quinoa, barley, and lentils and rinse well under running water.
3. Put vegetables, quinoa, barley, and lentils into the pot, add sea salt, and cover with water. Make sure that you have sufficient water so that it will still be liquidy even after the quinoa and barley absorb water.
4. Bring to the boil, lower the heat, and simmer till the grains and vegetables (and meat) are thoroughly cooked.
5. Put on the blech/plata before Shabbat and let the flavors and textures blend overnight.
Notes:
1. For those of us who plan more than a day in advance, it's possible to increase the nutritional value of the quinoa, barley, and lentils by sprouting them beforehand.
2. I did not add potatoes which are customary in cholent since I didn't see the need to add an additional starch. We did not miss the potatoes.
3. Quinoa is a particularly nutrient-rich food, considered by early Peruvians to be a "sacred food";  they called it  chisaya mama or "mother of all grains".
B'tay'avon – Enjoy!