Here's How to Make a Super Nutritious Soup with Bone Broth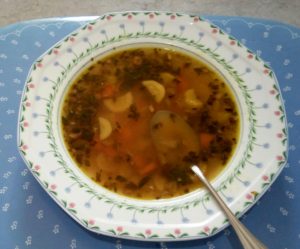 Among the many changes we made to our diet over the years was the inclusion of bone broths. Bone broths, Weston Price found, were made by just about every traditional culture that he visited. Bone broths have a much better nutritional profile than many soups we make because the bones are simmered for a  long period of time so that minerals, including trace minerals, and other nutrients leach out of the bones to provide us with a rich source of valuable nutrients in a form that's readily absorbed. Also included are materials from broken down cartilage and tendons including glucosamine and chondroitin sulphates that are important for joint health.
Bone broths are not only delicious and nutritious, but they also extend your budget by providing the nutrition you need at a fraction of the cost, especially if the bones are reused. Broths can be used as a base for soups, stews, sauces, and gravies. Mostly, I make a large pot of broth which I then use for soup.
Here's how I do it:
Ingredients for broth:
2 kilos (about 4.5 lbs) more or less of meat bones with attached meat and cartilage
To ask your butcher for bones:
Azamot bakar "עצמות בקר" are beef bones
Atzamot kevasim  "עצמות כבשים" are sheep bones
Atzamot mo'ach  "עצמות מח" are marrow bones
For cuts of meat see the Culinart Kosher Hebrew English Meat Chart.
For sources for organic meat see Organic and Natural in Israel List
White wine (if I have and remember). I don't measure but I probably put in about a quarter to half cup of wine. The wine's acid helps leach the minerals from the bones. Many recipes use vinegar for this purpose but we didn't like the taste. The white wine, however, pretty much serves the same purpose and adds a nice flavor.
Several liters of filtered water to fill to your stock pot within an inch or two of the rim after the bones are put in.
To make broth:
Put bones in large stock pot and fill pot with filtered water to about two inches below the rim.
Heat water to boiling and skim scum from top
Lower heat to a very, very low simmer and leave on the heat for 24 hours.
Let the broth cool down.
I usually have a very large pot of broth, more than we need for the following days, so I take some of it and put it in containers to freeze. I then have a nice amount of broth and can use it to make more soup in a short amount of time. Never put anything hot into plastic containers. Wait till the broth cools down.
I also take out some or even all of the bones and some of the meat and cartilage and freeze it so I can make another batch or two of broth in the future.
To make the soup:
I sauté a number of herbs and vegetables and then add them to the broth. This allows the flavors to blend nicely and when I add them to the broth I immediately have a great tasting soup. Otherwise, if I put all the vegetables and herbs in the broth at the same time and let them cook in the broth it usually takes a day of sitting in the refrigerator till all the flavors are blended and the soup tastes really good.
While this is what I ordinarily put in my soup and how I make it, the possibilities are numerous depending upon what you have in the fridge and your family's tastes. Please note that all measurements are approximate and can be adjusted to your liking.
Saute
1 large Onion in Olive Oil with a bit of Sea Salt. You can also use some of the fat from the meat if you like. The salt helps break down the onion's cell walls, enhancing the flavor.
Add the following ingredients one at a time, allowing each item to sauté with the onions for a few minutes before adding the next ingredient
2 cloves Garlic minced or crushed
3 or 4 Mushrooms chopped
½ bunch of fresh Parsley chopped or 1-2 tbsps dried Parsley
Other Herbs to taste and depending what is on hand such as

Handful of fresh Cilantro (Kusbara) chopped
1 tbsp each dried Thyme, Marjoram, etc. or fresh if you have.

3 medium to large Carrots sliced or diced
3 medium Zucchini sliced
½ -1 tbsp additional Sea Salt or to taste
On occasion I add or substitute with:
1 cup of Green Beans cut into bite size pieces – fresh or frozen
1 cup Peas – fresh or frozen
½ cup Split Peas or Barley (best to soak and cook in advance since they take a long time to cook)
½ medium or 1 small Kolrabi diced
For added health benefits I occasionally add 3-4 shakes of dried turmeric (curcum) and ¼ tsp. black pepper (the black pepper potentiates the beneficial compounds in the turmeric). If you have fresh turmeric, so much the better.
When the vegetables and herbs are finished sautéing, add them to the remaining broth and reheat together.
Serve as is or let the soup cool down a bit and blend the soup in a food processor or with a hand blender.
It's an easy soup to make, it goes a long way, and I feel really good about serving it to my family.
Good nutrition and great taste go hand-in-hand!
Enjoy.
Related Posts:
Eating a Weston Price diet in Israel – Is it possible?
Related Products:

Nutrition and Physical Degeneration:
A Comparison of Primitive and Modern Diets and Their Effects 
by Weston Price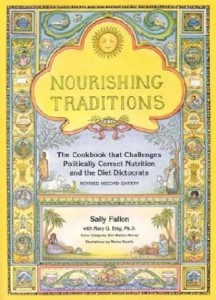 Nourishing Traditions: The Cookbook That Challenges Politically Correct Nutrition and the Diet Dictocrats
by Sally Fallon with Mary Enig, Ph.D.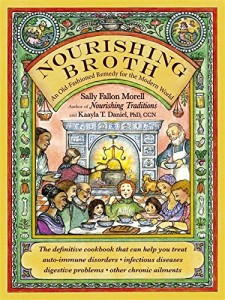 Nourishing Broth: An Old-Fashioned Remedy for the Modern World
by Sally Fallon Morell and Kaayla T. Daniel