Why Some Israeli Yogurts Aren't Really Yogurt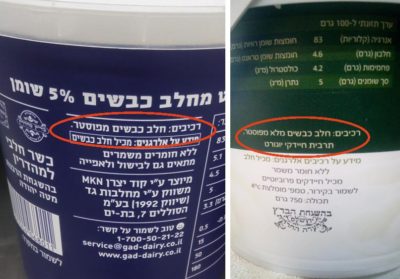 There was a surprise in store for me when I scrutinized the yogurt (יוֹגוּרט – yogurt) container.  What I discovered might surprise you, too.
In the United States in the late '70s, Dannon yogurt featured commercials extolling the longevity of Soviet Georgians who ate plenty of yogurt. The takeaway, of course, was that if you eat yogurt you will be enhancing your longevity. These commercials helped to propel the growth of the yogurt industry in the USA.
https://www.youtube.com/watch?v=R9RJBgNB1ZI
Whether or not eating yogurt regularly is the main reason that these people were purported to live long and healthy lives, yogurt, a fermented food, is supposed to be rich in probiotics; probiotics are important components of healthy gut flora and critical for both physical and mental health. Several European countries include yogurt or beneficial microbes in their dietary guidelines. In fact "…"yoghurt" was defined in 1925 and specifies a typical milk fermented with Streptococcus thermophilus and Lactobacillus delbrueckii subsp. bulgaricus."[1] Most people I know also associate it with probiotics and consume it with that intention or expectation.
When I went food shopping after we first made aliyah, I noticed that there was yogurt and there was bio (pronounced beeyo by Israelis) yogurt. I had never seen it labeled as "bio" in the States. Not considering that there might be a real difference between the two that would actually matter to me, I never checked it out. And while we preferred the goat and sheep yogurt sold in the Organic Market near us (which happened to be bio), since even yogurts sold in the health food stores are not necessarily organic, we also bought other plain, unflavored sheep yogurt (יוגורט כבשים – yogurt cvasim), goat yogurt (יוגורט עיזים – yogurt eezeem), and cow yogurt (generally just labeled as yogurt).
This all ended the other day, however. I was looking at the ingredients (רכיבים – richivim) on the container we had in the house and I realized, that aside from milk, there were no other ingredients listed. Having noticed on occasion the inclusion of probiotics in the ingredients of other brands, I called the company to inquire. And that's how I learned that (at least in Israel) if it's not bio yogurt and lists probiotics as an ingredient, it has no probiotics in it! In other words, if it doesn't say "bio" on the label, then by definition, it is not yogurt.
While the websites of some commercial brands of bio yogurt sold in Israel don't say which probiotics are contained in theirs, the website for Halav Haaretz, the brand that we usually buy in the health food (and other) stores, lists as their probiotics the two strains of bacteria, Streptococcus thermophilus and Lactobacillus delbrueckii subsp. Bulgaricus, which are included in the definition  above.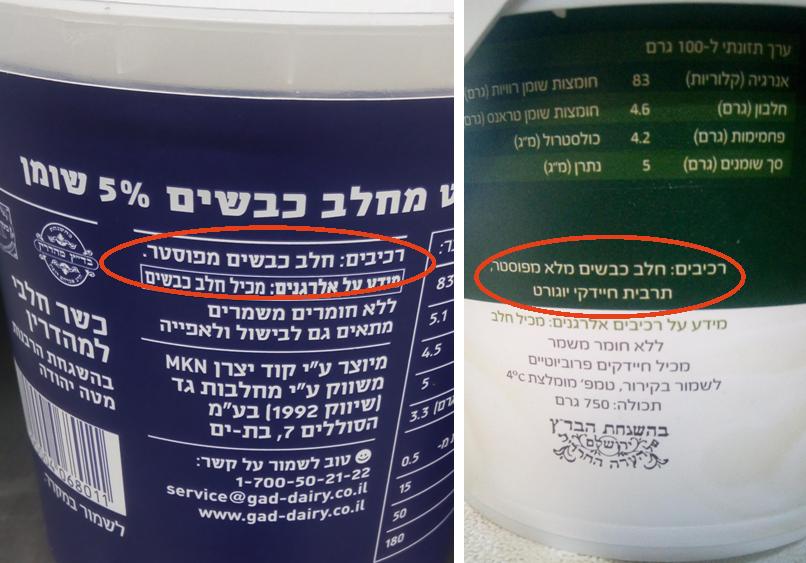 I'm done with the fake yogurts – are you?
Notes:
[1] Probiotics in dietary guidelines and clinical recommendations outside the European Union 
Related Articles:
Are Your Gut Microflora Doing the Happy Dance?
Resources:
Lactobacillus Bulgaricus and Streptococcus Thermophilus Yogurt Benefits